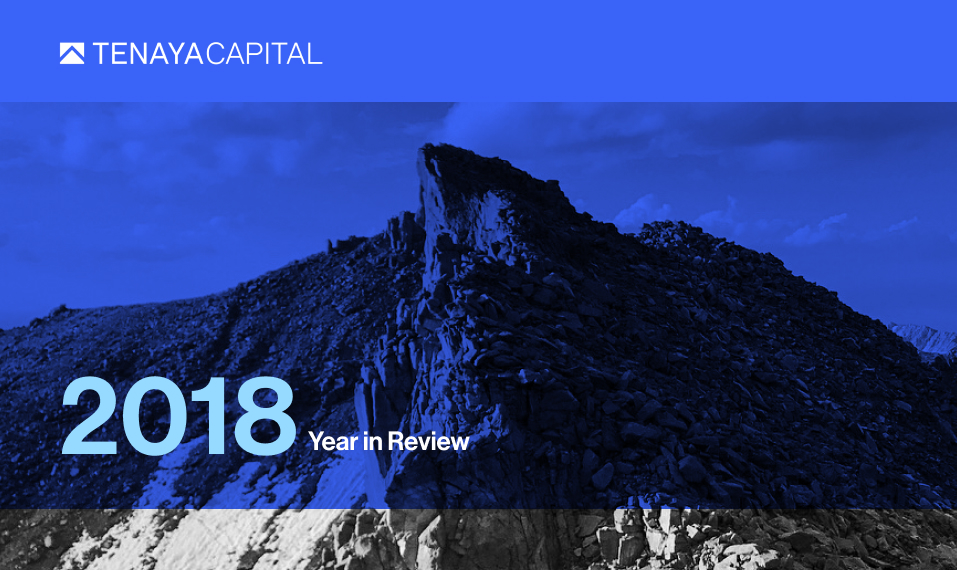 01.14.2019
2018 Year in Review
2018 was another excellent year for Tenaya Capital and our portfolio companies. Across all indicators it was one of our best years on record. We were fortunate to partner with ten new companies and founders that are in the early days of their journey to build category defining businesses. We are excited to help them achieve their visions.
Announced New Investments
2018 was also a busy year for IPO and M&A events across the portfolios. Eventbrite and Zuora, two companies that we partnered with in 2008, listed their shares on the NYSE. We also completed five notable M&A transactions across the portfolios that will add significant strategic value for their acquirers: PlanGrid (Autodesk), Skyhigh (McAfee), Tenor (Google), ThreatMetrix (Relx) and Wooga (Playtika).
We are proud of the milestones these exceptional businesses achieved and are thankful for the tireless work the founders, executives and team members contributed over the years to build these companies into market leaders.
As we look forward to 2019, we are excited about the growth and goals many of the existing portfolio companies have in store for themselves this year, and the new entrepreneurs we will meet and partner with on their growth story.
Here's to a great year ahead!
Tenaya Capital
Click here for our 2018 Summary Infographic
About Tenaya Capital
Tenaya Capital is a leading early growth technology focused venture capital fund. With $1.5 billion assets under management, Tenaya is an active enterprise and consumer technology investor that strives to partner with companies early in their journeys, typically at the Series B and Series C stage. With offices in the San Francisco Bay Area and the Greater Boston Area, Tenaya has partnered with leading technology startups, including: Acquia, Eventbrite (NYSE: EB), HubSpot (NYSE: HUBS), Infoblox (NYSE: BLOX), Kayak (NASDAQ: KYAK), Lyft, New Relic (NYSE: NEWR), Palo Alto Networks (NYSE: PANW), PlanGrid, Qunar (NASDAQ: QUNR), ThreatMetrix, Wavefront, Zappos and Zuora (NYSE: ZUO). For a full list of Tenaya's investment, please see our website.
Back to News